Montel Williams, The Montel Show
Eric Wilkinson, King 5 News
Hoda Kotb, Today Show
– USA Today
A Leading Voice of the Next Great Generation
Speaking Fees Go To The Non Profit Just Yell Fire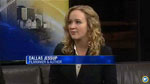 Breakfast TV Edmonton

(media content)

More
Heart of Gold
Meet Dallas Jessup-fiery CEO of nonprofit Just Yell Fire. Her mission started at just 13 years old, when the black belt martial artist decided to make a "home movie" designed to teach high school girls self-defense techniques to protect themselves in harmful situations. Within two months, that DIY movie blossomed into a 46-minute professional production featuring LOST stars Josh Holloway and...

More
Youth Radio
Dallas Jessup, 20, is founder and CEO of Just Yell Fire -- a nonprofit working to empower girls to defend themselves against rape and abduction by learning Filipino Street Fighting techniques. She just won a World of Children Award grant to develop her organization further.
Jessup created Just Yell Fire when she was 15. Jessup has a black belt in Tae Kwon Do and is a second degree...

More
The Huffington Post
I love New York City in the fall, and one of my favorite events of the season is the annual World of Children Award Gala, at which I have the profound pleasure of meeting the newest class of changemakers for children who are there to receive their World of Children Award.
I am lucky enough to hear firsthand what motivated them to devote countless hours -- all unpaid -- to launching and...

More
Hinton Voice
Cara Kulbacki, family violence prevention coordinator for the Yellowhead Emergency Shelter, took a shot in the dark and reached out to internationally-known motivational speaker, Dallas Jessup, in the hopes she would present her Just Yell Fire workshop for local girls.
"I thought, for sure, she doesn't have time for little old Hinton," said Kulbacki. "But she called me back the next...

More
Inside Vandy
Senior Dallas Jessup released her first film, Just Yell Fire, while still in high school. The film, which aimed to teach girls ways to stay safe and defend themselves, garnered attention and awards from across the country. Now, drawing on her experience at Vanderbilt, Jessup has released a new film, "Just Yell Fire: Campus Life." In the light of the new film's release, The Vanderbilt Hustler sat...

More
USA Today
Dallas Jessup is still embarrassed by the story, though her mom loves to tell it.
At age 10, little Dallas was ready to date. There was a cute boy, and she asked her parents if she could go out with him.
"My dad -- a very clever man -- said, 'You can date when you get a black belt,' " Jessup recalls.
Little did he know that statement would not only inspire the girl to take...

More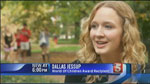 News Channel 5 Nashville
A Vanderbilt University senior is being honored with what's considered the Nobel Prize for child advocates. It's called the World of Children Award, and 20-year-old Dallas Jessup is one of six recipients.
"It was pretty shocking, I mean, it's quite an honor to be a part of this amazing group of people who are making an impact on our future," said Jessup.
She's an author,...

More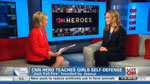 CNN
2007 CNN Hero Dallas Jessup talks about "Just Yell Fire," an initiative to teach young girls how to defend themselves.

More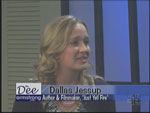 The Dee Armstrong Show
What did you teach your daughter about defending herself from an attacker? If that is a concern, Martial Arts Expert and Author Dallas Jessup has an awesome video available called "Just Yell Fire."
Self Defense Filmmaker Dallas Jesup will be on the show today, talking about her film & women's self defense revolution "Just Yell Fire; Empowering Girls to Protect Themselves." You don't...

More