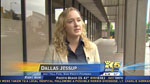 King 5 News
Campus safety is on the minds of many incoming freshmen as the University of Washington and other colleges begin classes this week.
"First thing is to fight back. Look confident when you're walking around. Predators and rapists are looking for people who are shuffling, looking at their iPhones, people who don't look like they're going to put up much of a fight, unfortunately," Jessup...

More
The Sparta Independent
Coeds don't know they face a 1 in 4 risk of sexual assault, 1 in 3 of dating abuse or other random violence but one nonprofit, Just Yell Fire, has released 5 Tips to Stay Safe at College and has a free stay-safe film online that has been lauded by schools and law enforcement nationwide.
Dallas Jessup, the founder of Just Yell Fire, herself a recent college graduate, launched the...

More
iDIVA
Anjhula Mya Singh Bais dons many hats; an international super model, actor, psychologist, social activist, Buddhist practitioner and blogger for esteemed publications. She is a multitasking diva who is walking hand in hand with the times. She talks to iDiva about what it's like juggling many roles, her passion for social work and her future plans.
Rati Agrawal, Team iDiva
...

More
Nesf wl Donia

(media content)

More
My Fox Boston
Combating Violence against women with the new Just Yell Fire coasters.

More
KPFT 90.1 FM
"The great thing about Just Yell Fire is we're able to condense years of martial arts into one hour and give you
those core techniques that will really help you get out of a situation."
-Dallas Jessup

More
Voice of America
Surveillance footage of an 11 year old being abducted prompted Dallas Jessup, 13, to start "Just Yell Fire," a nonprofit that teaches girls self-defense skills. Seven years later, Jessup has grown, so has her nonprofit. VOA's Faiza Elmasry reports.

More
Hinton Voice
Dallas Jessup demonstrates several ways to escape an attacker, in this case volunteer Emilie Wilson, during the Just Yell Fire presentation on Nov. 21 at the Hinton Centre. More than 100 mothers and daughters attended the Yellowhead Emergency Shelter for Women fundraiser.

More
Q91 Country
Kyle Born interviews Dallas Jessup, Founder and CEO of Just Yell Fire, which is a program designed to educate and empower young women.

More
CBC Edmonton
Dallas Jessup started a women's self-defense movement that's spreading across the continent is making its debut in Edmonton.

More